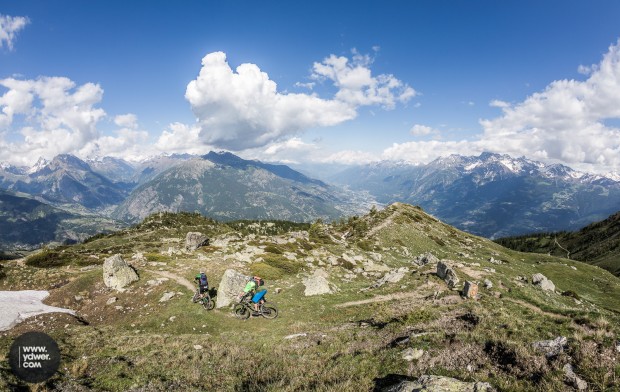 The Aosta Valley, world famous for its Pila Bikepark and of course the EWS in La Thuile, holds many more trails spread out over the different side valleys. With peaks reaching over 3000m and a valley floor situated  at just over 400m there is plenty of descending to be done.
End of June is prime time for riding in Aosta Valley. Most high passes are cleared enough from snow to be ridden, but the highest of peaks are still covered in the white stuff to get some amazing images.
Per day you do about 40-45km of riding spread out over +- 1000hm of leg powered climbing. Expect technical single tracks, rocks, roots and some hike a bike sections. The Blast is not for beginners!
When in doubt if you have the skills set to enjoy the Blast,  get in touch with us!
The Blast costs € 449,- / £ 380* per person, this includes:
Accommodation from Thursday – Sunday (late checkout)
Continental breakfast on Friday, Saturday and Sunday
Lunch on Sunday
2,5 days of riding with a professional guide on technical single tracks
Uplift service to ride even more trails**
6 timed stages spread out over the 2,5 days of riding
Pictures taken by a pro photographer during the event
Video edit from the event made by a pro videographer
Goodie bag brought to you by our sponsors
*Invoice will be sent in Euros, GBP price for reference only.
** At least one uplift per day, depending on location we might opt for more transfers/uplifts.
Dinners and drinks are not included, expect to pay about € 30,- a night for a three course meal and some drinks. Airport transfers are possible. Please get in touch with us for a quote.
For the Blast in 2017 there are only 11 spots for this event, so don't miss out!
Registration is now open!
[gravityform id="24″ name="The Blast Aosta Valley 29 June – 2 July 2017″]
By signing up, you agree to our terms & conditions.