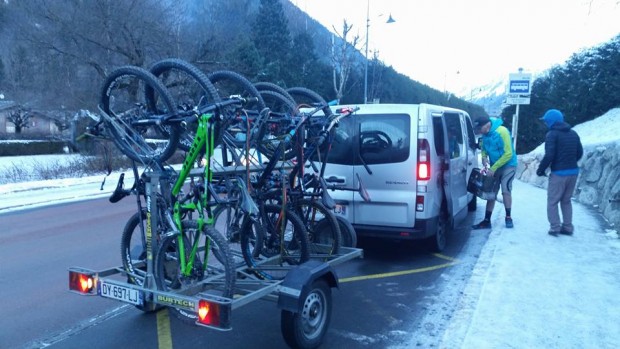 Sundays fun-days, a saying very true in the alps. Living in Chamonix gives you many options to ride, either within the valley itself, or in the surrounding areas like Aosta or Valais. So how do we spend our days off when not guiding or setting up Blast Epic Enduro weekends?
Plans are quickly made with a big group of skilled riders around and before we knew it we had a van, trailer, mobile home and 8 riders lined up for a double car mission in Switzerland.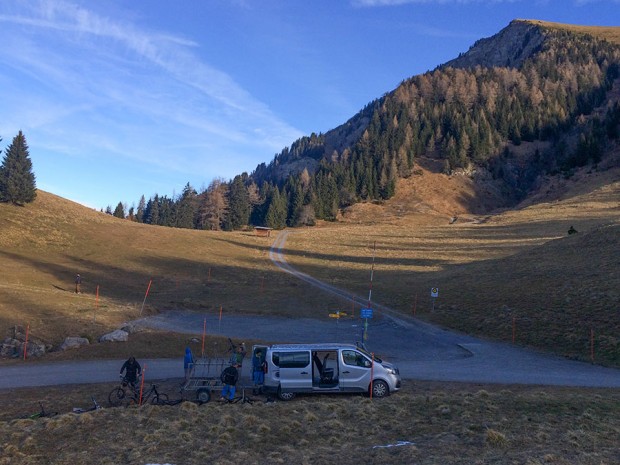 Plan of action was to shuttle up with the van, and leave a car and the mobile home at the bottom of the trail. Stocked with Vin Chaud and some snacks, this would make the perfect hangout, while the two unlucky ones drive the car back up to pick up the van/trailer combo.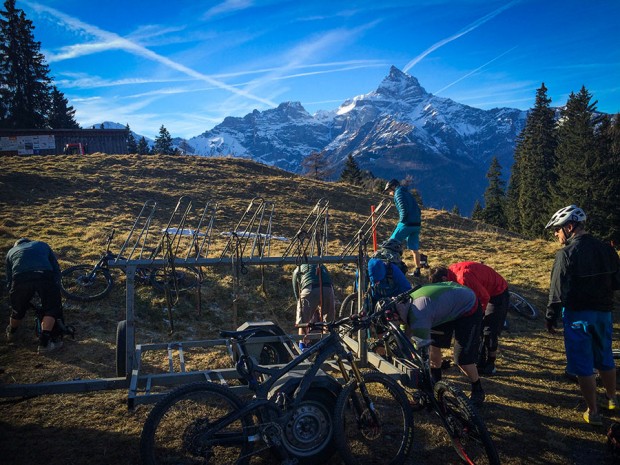 This brought the total climbing down to about 700m, while the downhill fun was more around the 1800m mark.Views were stunning during the up. With the inversion around it was soon time to take off some layers and take in the views.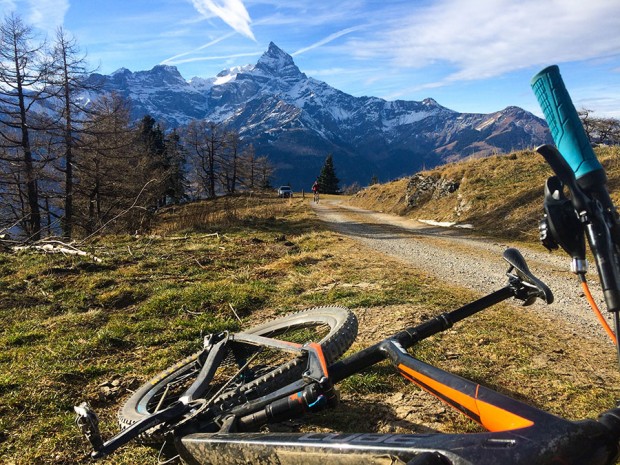 With the weather resembling autumn more then winter, the colours are still stunning as in October.
The climb was steady, but mainly on fire roads so not too much of a struggle.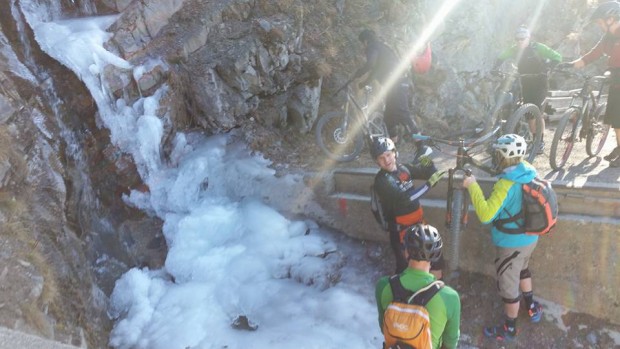 Because of the avalanches, most of the bridges are taken away in the winter months providing us with some extra challenge. After checking the map, we decided to not try our luck and turn around. Chances are big we would find an uncrossable ice plaque somewhere higher up, and none of us brought crampons or ropes.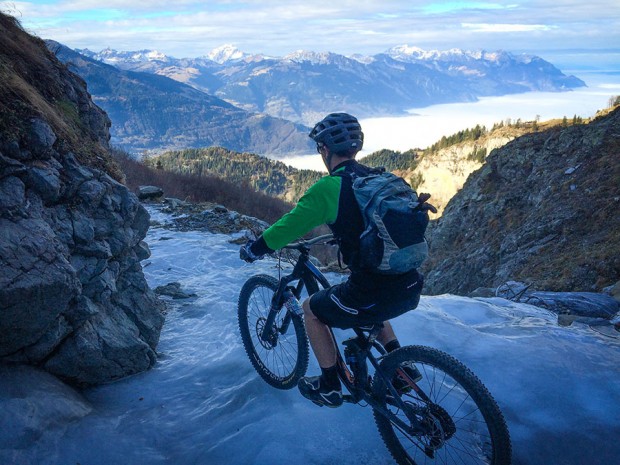 Even our alternative route gave us some challenges. A goat trail ending in an ice waterfall. Some people couldn't resist the challenge and rode across, while the sane people carefully walked.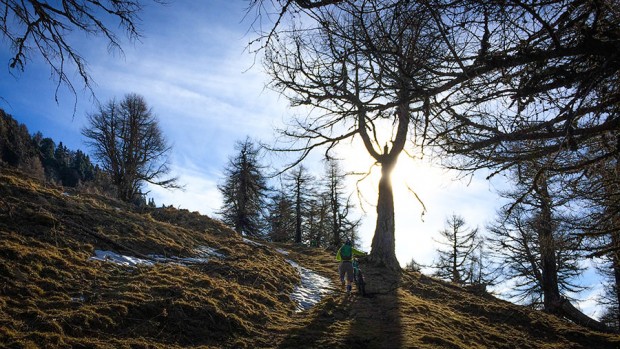 As we had to take an alternative route, there was some pushing and carrying involved. And maybe even some bushwhacking. Eventually we made it back onto the track again.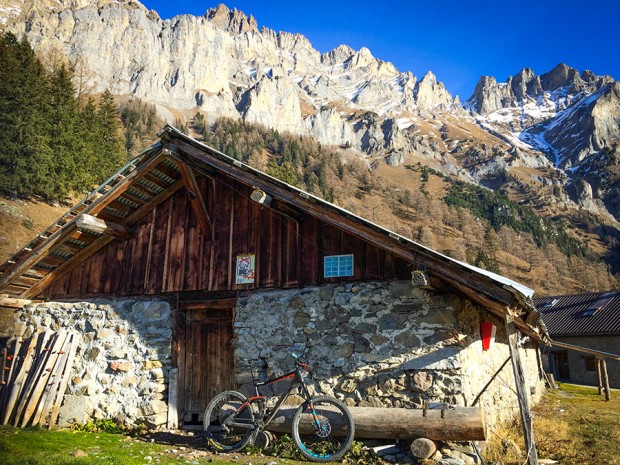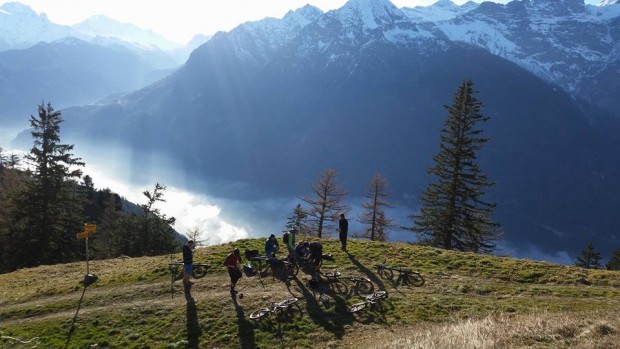 Snack stop before dropping in! A mere 1800m of single track descending separates us from the foggy valley below.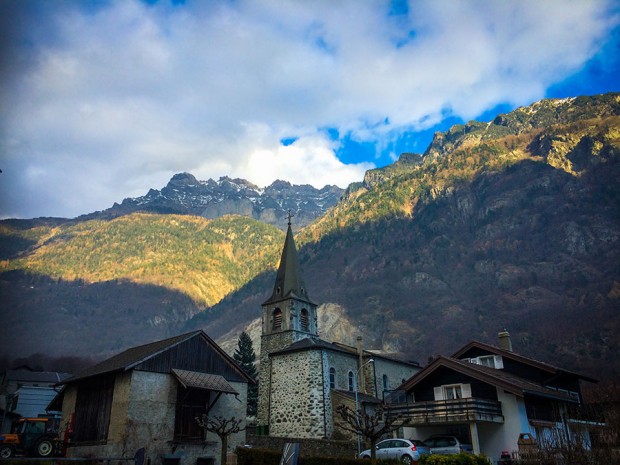 Looking back up to the starting point in the distance. Another decent sunday out on two wheels, while we wait for the white stuff to fall.
Big thanks to Wayne, Cham-Van and Oli for setting up the trip, and to Lee for using his kickass camper to warm up on the Vin Chaud. And of course to the rest of the crew for joining in!